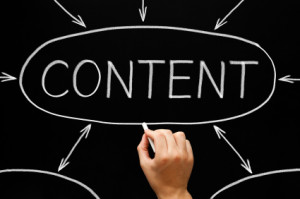 As marketers, we are constantly challenged by the various forms of communication now available to us, and perplexed as to which one(s) to choose that will be most effective in delivering content and messages to our target audience.
These communications methods ("demand generation avenues" in sales parlance) are in a constant state of flux as consumers/potential customers are directed in a variety of directions based on search terms used in Internet searches. There are thousands of websites that may contain applicable content to the potential customer. So, where do you spend your time, money, and effort to be sure you reach your target audience?
The Content Marketing Institute offers free webinars from time to time on a variety of topics. Most recently, I attended one on the "State of Demand 2013." The focus of the webinar was on the current state of demand generation and what consumers want and need from marketing communications. Mathew Sweezey, Manager of Marketing Research and Education at Pardot (a Salesforce.com company), was the speaker.
Sweezey suggests that there are cycles that need to be understood in order to layer your sales approach. Customers are 2/3 of the way through the sales cycle by the time they reach out to you and may be ready to buy services. 98% of people start their search for services on Google, but their search definitions change as they refine their search terms. They go through this cycle 3-4 times before narrowing their actions to stage 2.
Stage One:  Unidentified need (content should be about them, not you)
Stage Two:  Need, but do not have budget/buying authority
Stage Three: Need urgent and authority to buy. They have a short list (content is about you and what you have to offer)
Content needs to be drafted with these stages in mind. For example, at Stage One, prospects are just conducting general searches to identify content and educate themselves. Content provided at this stage would be general information about the subject or direct people to others who are thought leaders on the subject. Posting this type of information to websites or microsites, and positioning for good SEO results is are key elements.
At Stage Two, you want to draft content that provides social proof. What are others doing in this area? Content may include case studies or examples of key players in an industry who have had success in the subject area. It demonstrates how to use the services, information or products to be successful. Case studies or short videos or a white paper about what others are doing may also be useful.
Finally, at Stage Three, you want them to know how you can help them. Include specific information about you, your company and services and connect their needs to how you can provide assistance.
In short, focus your general web or blog content on things that are about them; focus your email marketing about what others are doing that may apply to their specific needs, and then focus your 'sales pitch' in person on what you have to offer that is targeted to meet their needs.
This allows you to segment and target your content most efficiently.